Via Dolorosa, First Station of the Cross
Intimately connected with those historical and legendary events, that have found a local habitation within the walls of the Church of the Holy Sepulchre, are the traditions which during the course of centuries have clustered round certain spots in the narrow, crooked streets that lead from the Turkish Barracks, north of the Haram esh Sherif, to the church-the stations of the Via Dolorosa. The course of the Via Dolorosa depends on the site of the Praetorium, or residence of Pilate, and this has never been satisfactorily ascertained. At one period the Praetorium was supposed to have stood on the eastern hill, Moriah; at another on the western, the modern Sion; and it was not till the close of the crusading period that its present position was assigned to it, and the first station of the Via Dolorosa was located in the above-mentioned Turkish Barracks . . . . It is, perhaps, needless to add that the buildings along the Via Dolorosa are modern, and that the "stations" themselves have been moved from place to place in the city whenever necessity or convenience required their removal. (Source: Picturesque Palestine, vol. 1, pp. 28-29.)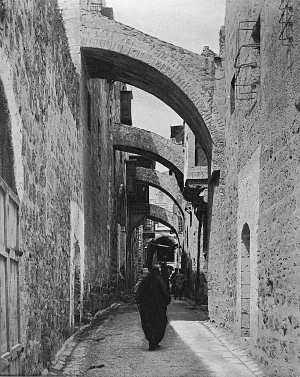 Source: Earthly Footsteps of the Man of Galilee, p. 252.
There are fourteen stations in the Via Dolorosa: 1st, the Turkish barracks; 2d, foot of the stairs leading to the Judgment Hall; 3d, a broken column near the Austrian hospice, indicating the place where Christ fell under the cross; 4th, is situated near the house of Lazarus, where Christ met His mother; 5th, near the house of Dives, where Simon of Cyrene took up the cross; 6th, the house of St. Veronica; 7th, Porta Jadiciaria, where the Via Dolorosa crosses the street from the Damascus gate; 8th, monastery of St. Caralombos, where Christ addressed the women, "Daughters of Jerusalem, weep not for me"; 9th, where Christ fell the third time (in front of the Coptic convent); 10th, is within the Church of the Holy Sepulchre indicating the spot where Christ was undressed; 11th, represents where He was nailed to the cross; 12th, shows where the cross was raised; 13th, indicates where He was taken down from the cross; 14th, is the sepulchre in which He was buried. (Source: Earthly Footsteps of the Man of Galilee, p. 252.)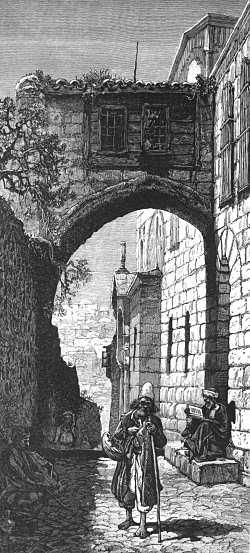 Source: Picturesque Palestine, vol. 1, p. 24.
The second station is in the street below, where, at the foot of the Scala Santa, which led to the Judgment Hall, the cross was laid upon Christ. A few paces westward the street is spanned by the Ecce Homo Arch . . . which marks the spot where Pilate brought Jesus forth "wearing the crown of thorns and the purple robe," and presented Him to the multitude with the memorable words, "Behold the man!" (John xix. 5). The arch has all the appearance of a Roman triumphal arch of the time of Hadrian. It consists of a large central arch, with a smaller one on the north side which has been included in and forms the eastern termination of the Church of the Convent of the Sisters of Sion. Following the street downwards to the valley the third station is reached, a broken column near the Austrian Hospice which indicates the place where Christ fell under the cross. (Source: Picturesque Palestine, vol. 1, p. 29.)
The houses of Dives and Lazarus are the fourth and fifth stations along the Via Dolorosa. The fourth, or house of Lazarus, is where Christ is said to have met His mother. And the fifth is where Simon of Cyrene took the cross from Christ, which is the house of Dives. The Via Dolorosa, and the Resurrection at the end of it, define the purpose of God in creating a world subject to trial and conflict and suffering. During the Passion Week in Jerusalem pilgrims pass over this way and meditate upon the sufferings and crucifixion of our Lord. Each station along the way calls up some particular incident in the last hours of Christ; and very few visit Jerusalem-- whatever may be their creed-- but are deeply moved by the sacred sites which are pointed out, though they may believe there is nothing stronger than tradition to establish their identity. Some people believe everything, and then there are others who believe nothing. . . . In all these archaeological studies the main matter is to accept Christ himself, and to depend on Him, rather than on mere externals. (Source: Earthly Footsteps of the Man of Galilee, p. 253.)