Views That Have Vanished:
The Photographs of David Bivin
In the early 1960s, David Bivin went to study at The Hebrew University of Jerusalem. Armed with a Yashica-D medium-format camera, Bivin traveled the land of Israel and the surrounding regions taking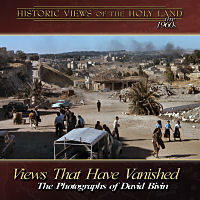 photographs of biblical sites, archaeological excavations, and everyday scenes. Today these photographs provide a window on a land that has changed radically, as a result of the construction of cities, the Six Day War, and the unification of Jerusalem.
This volume includes more than 700 photographs in high-resolution (1600x1200 or higher) jpg format, which means the images look crisp and clear even when projected on a large screen. All of the images are also included in pre-made PowerPoint® files for classroom teaching. Explanatory notes are included in the PowerPoint® files. The collection includes photographs of Israel, the West Bank, Jordan, Greece, and Rome.
"Views That Have Vanished is a great addition to the already long list of photographic materials published by BiblePlaces. The CD belongs in the library of every church and every person who teaches Bible classes with an emphasis on the land in which these historical events took place. Frequently I say to my groups, "I wish you could have seen this before. . . ." Now, you can see it through these photographs."

—Ferrell Jenkins, Retired Chair of Biblical Studies, Florida College
About the Photographer: David Bivin is director of Jerusalem Perspective (www.JerusalemPerspective.com), and a member of the Jerusalem School of Synoptic Research, a research organization made up of Jewish and Christian scholars dedicated to better understanding the Synoptic Gospels.
About the Producer: Dr. Todd Bolen is a Professor of Biblical Studies at The Master's University. He lived and taught for many years at their campus near Jerusalem. He is the producer of more than 60 volumes of photographs illustrating the biblical world, including the Pictorial Library of Bible Lands and the Photo Companion to the Bible.
Cost: $30 (free shipping in the U.S.)
Or buy the complete 20-volume set for $394 $199
Guarantee: You will be satisfied or your money will be refunded.

"For years now, Todd Bolen's wonderful collection of photos of Biblical sites has been an indispensible tool of my preaching and teaching ministry. My congregation loves to see as well as hear about the places where Biblical events happened. This new collection fills in a critical gap, allowing us to see the Holy Land before the massive changes that have taken place in the past 50 years and obscured parts of the land that had changed little over many centuries."

—Rev. Al Sandalow, Pastor, First Presbyterian Church, Ellensburg, Washington
The Uniqueness of this Collection:
Continuous Presence: David Bivin was not a tourist to Israel, but he has lived there continuously since 1963. He was there to photograph historic archaeological excavations in progress, view military parades, and experience the cycle of holidays every year. Bivin's presence in the land allowed him to get photographs that an intermittent visitor likely does not have the opportunity to take.
Dramatic Moments: Living in Jerusalem enabled Bivin to photograph such fascinating events as the aftermath of the capture of the Old City of Jerusalem in 1967, the Independence Day celebration of 1968 when Israel paraded military hardware captured from its enemies, and the mourning procession for Egyptian president Nasser in 1970. Bivin was present at the Western Wall when the prayer plaza was being created. He was on the scene when crates of Jordanian ammunition were being removed from the Citadel of David. He caught on film the streams of Israelis finally able to visit the most ancient parts of the Holy City, off-limits to them during the decades of Arab control.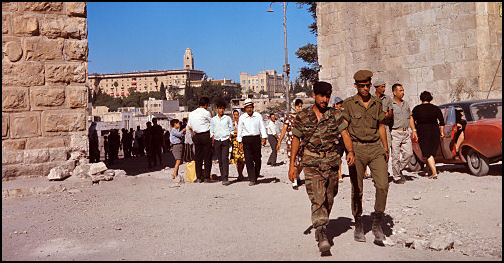 Jaffa Gate shortly after the capture of the Old City, July 1967
Photographic Skill: Though not a professional photographer, Bivin had a high-quality, medium-format camera and he took extensive photographs throughout the 1960s. His detailed notes allow each photograph to be easily identified, including the exact date on which the photograph was taken.
Knowledge: First a student and then a teacher of historical geography and archaeology, Bivin traveled to major sites all over Israel, and the East and West Banks of Jordan. He photographed ongoing excavations at Megiddo, Ashdod, Masada, Arad, and Gezer. He led groups to rarely-visited sites such as Dothan, Tirzah, Shiloh, Gophna, Tell el-Hesi, Tell Jemmeh, Mamre, Beit Zeitha, and Jebel Qaaqir.
Color Photographs: These are among the earliest color photographs taken in Israel.
Friends: Bivin knew and photographed many people who have left a legacy in the fields of historical geography and biblical archaeology, including Nelson Glueck, Abraham Malamat, Yohanan Aharoni, Ephraim Stern, Avraham Negev, Gabriel Barkay, and Anson Rainey.
"For those who are interested in Israel, archaeology, and history, this CD offers an enlightening glimpse of numerous sites as they looked 40 years ago. Four decades of excavations and life in Israel has greatly changed the appearance of numerous locations of biblical significance and this CD allows us to see those places before those changes took place. This CD gives us another tool to help people better understand the Bible in light of its connection with the geography and topography of the land of promise."
—Dr. Michael Grisanti, Professor of Old Testament, The Master's Seminary
"Going back in time is physically impossible, but these stunningly clear photos show vintage 1960's views of biblical sites, many of which are presented with modern day contrasts. This valuable resource adds historical/cultural texture for personal study and also in a teaching context."
—Matt Kottman, Pastor of Calvary Chapel, Leatherhead, U.K.

Click here to see some "Then and Now" comparisons
List of Photographs in the Volume
Coastal Plain
Acco fortress western wall, db6607242502
Acco from south, db6608302605
Achziv deserted Arab town with Rosh HaNiqra, db6311161106
Ashdod excavations, db6307240409
Ashdod excavations, db6307240410
Ashdod excavations, db6307240411
Ashdod modern city, db6307240408
Ashdod new port from Tel Mor, db6604231807
Ashdod new port under construction, db6307240405
Ashkelon Crusader wall on Middle Bronze glacis, db6804032712
Ashkelon forum with granite pillars, db6804032709
Caesarea harbor from northeast, db6603250806
Caesarea Roman theater, db6608312706
Caesarea theater stage under restoration, db6603250809
Caesarea theater under restoration, db6603250808
Dor port and theater, db6405313504
Haifa and Acco Bay, db6607242504
Haifa and Acco Bay, db6607242506
Haifa Bahai shrine, db6608312609
Haifa Technion campus, Bay of Acco, db6608312701
Jaffa and Tel Aviv coastline from Jaffa, db6407053707
Jaffa and Tel Aviv from south, db6608312711
Jaffa clock tower, db6407053711
Nahariya city street, db6608302608
Rosh HaNiqra northern coastline, db6308200607
Tel Aviv, Allenby Rd, db6608312709
Turkish aqueduct at Lohame HaGetaot, db6308200605
Galilee
Abel Beth Maacah from Metulla, view south, db6505162103
Abel Beth Maacah from sw, db6704091107
Arbel and Sea of Galilee from Horns of Hattin, db6505172110
Arbel and Sea of Galilee from Horns of Hattin, db6505172112
Arbel cliffs and Plain of Genessaret, db6704101301
Arbel cliffs with Sea of Galilee from west, db6704101212
Banias falls and Mt Hermon from south, db6804073601
Banias falls, db6804073603
Baram synagogue, db6608302606
Bet Haccherem Valley with three ridges, db6704101202
Bet Haccherem Valley, Sajur, Carmiel, db6704101201
Birket Ram, db6804073703
Boats on Sea of Galilee, db7904009901
Caesarea Philippi area and sacred cave, db6804073605
Caesarea Philippi area and sacred cave, db6804073606
Caesarea Philippi sacred niche, db6804073610
Capernaum area and Sea of Galilee, db6804063410
Capernaum synagogue and main street, db6804063407
Capernaum synagogue and Peter's house, db6804063409
Capernaum synagogue with steps, db6603260903
Capernaum synagogue, db6704080912
Capernaum synagogue, db6804063408
Chorazin synagogue, db6505162102
Chorazin synagogue, db6704091004
Chorazin synagogue, db6704091007
Dan pear orchard with view to Mt Hermon, db6704091104
En Gev and Hippos view east from Sea of Galilee, db6308210712
Galilee mountains and Mt Hermon from Arbel, db6704101210
Galilee mountains view sw with Kibbutz Parod, db6704091112
Gamla from above, db9900009947
Gamla from above, db9900009954
Hazor Area B with Mt Hermon, db6704091012
Hazor Canaanite altar with Mt Hermon, db6704091101
Hazor Solomonic gate, casemate wall with Rainey, db6311171211
Horns of Hattin and Mt Tabor from Arbel, db6704101303
Huleh Valley and Golan Heights from west, db6505172107
Huleh Valley and Kiriath Shmonah from nw, db6505162106
Huleh Valley with Mt Hermon from sw, db6704091109
Jordan River from Bridge of Jacob's Daughters, db6905017109
Jordan River near Bridge of Jacob's Daughters, db6905017108
Kefar Giladi, view south from Abel Beth Maacah, db6311171208
Kh Umm el-Amed synagogue view north, db6704101207
Lebanon from Metulla with border sign, db6505162104
Lebanon view north from Metulla, db6704091106
Metulla from west with Mt Hermon, db6704091105
Moshav Ahihud from Tel Birah, db6311161108
Mount Hermon with snow from south, db6804073701
Nahal Gamla from ruins, db9900009953
Nazareth marketplace, db6310071007
Nazareth overview from northeast, db6704010309
Nazareth, Paul VI St, db6703310304
Nebi Shueib, Tomb of Jethro, Druze shrine, db6704101209
Olive trees with red flowers in bloom in Galilee, db6704101205
Plain of Bethsaida and Sea of Galilee from west, db6704091009
Plain of Gennesaret from Mt of Beatitudes, db6704091001
Plain of Gennesaret, Sea of Galilee, Mt Hermon, db6704101211
Sea of Galilee from northwest, db6704101302
Sea of Galilee from Tabgha, db6804073504
Sea of Galilee from west, db6505152011
Sea of Galilee southern end from east, db6804073705
Sea of Galilee southern end from Poriya, db6704101305
Sea of Galilee southern end from west, db6804063312
Sea of Galilee southern end view from west, db6608292601
Sea of Galilee southern end view from west, db6608292602
Sea of Galilee with boat and water-skiier, db6804063310
Sea of Galilee with boat, db6505152008
Sea of Galilee with fishing boats, db6808215511
Sea of Galilee with palm tree, db6804063404
Sea of Galilee with Tabgha and flock of sheep, db6505152012
Sea of Galilee with Wadi Yarmuk, db6704080910
Tabgha shoreline and Sea of Galilee, db6804073502
Tiberias and Sea of Galilee from west, db6308210702
Wadi Yarmuk and Hammat Gader from above, db6804073711
Yellow flowers at Hazor, db6804073505
Greece and Rome
Athens acropolis from Mars Hill, db6407143905
Athens acropolis with Parthenon, db6407143810
Athens acropolis with Parthenon, db6407143812
Athens agora concert hall of Agrippa, Mars Hill, db6407143911
Athens forum and city, view north from acropolis, db6407143806
Athens Mars Hill and acropolis, db6407143906
Athens odeum and Hill of Philopappus, db6407143807
Athens Stoa of Attalos, db6407143910
Athens Temple of Hephaestus, db6407143908
Athens Temple of Wingless Victory, db6407143903
Athens Tower of the Winds, db6407143912
Athens view from acropolis with Mount Likavittos, db6407143811
Crete Heraklion Knossos palace dolphin fresco, db6410180201
Crete Heraklion Knossos palace wall painting, db6410180110
Crete Heraklion Knossos palace wall, db6410180109
Crete Heraklion Knossos palace, db6410180112
Crete Heraklion storage jar in situ, db6410180111
Rome Arch of Constantine and Colosseum, db6407174011
Rome Arch of Constantine from Colosseum, db6407174007
Rome Arch of Titus Temple treasures scene, db6407174103
Rome Arch of Titus Temple treasures scene, db6407174104
Rome Colosseum interior with Bivin, db6407174009
Rome Colosseum interior, db6407174008
Rome forum from south, db6407174105
Rome Piazza Navonna with obelisk, db6407174107
Rome St Peter's Cathedral interior, db6407174002
Rome St. Peter's Cathedral, db6407174005
Rome, Isedra, db6407174106
Jerusalem
Ammunition Hill view east across bunkers, db6911157502
Ammunition Hill view n, sappers clearing mines, db6804104010
Ammunition Hill view north, db6911157503
Arab vendor selling pottery near Old City, db6707011604
Ben-Zvi Road from northwest, db6805114904
Binyanei HaUmah, 27th Zionist Congress, db6805115101
Bus garage with government building, db6406273611
City of David and Hill of Offense, db6412240312
City of David and Mt Zion from east, db6911157604
City of David and Silwan from nw, db7708000107
East Jerusalem near Ritz Hotel, db7010017801
Former Jordanian position near Mandelbaum Gate, db6709051806
Former Jordanian position near Mandelbaum Gate, db6709051807
Garden of Gethsemane olive tree, db6808205502
Garden Tomb, db6401192208
Givat Hananiyah, no man's land, view to UN hq, db6701052901
Gordon's Calvary from south, db6601090712
Gordon's Calvary with bus station, db6401192206
Hebrew U and prime minister's buildings, db6604101608
Hebrew U campus from dorm building, db6307050209
Hebrew U geography building under construction, db6307050212
Hebrew U Givat Ram campus view south, db6604101611
Hebrew U Givat Ram campus view south, db6604101612
Hebrew U Givat Ram campus, db6604101610
Herod's family tomb, db6605212211
Herodian column, cracked, in Russian Compound, db6307250502
Hill of Offense, Silwan, Kidron Valley fr north, db6709051904
Hinnom Valley and West Jerusalem with J and N Bivin, db8005000112
Hinnom Valley from north after 1967 war, db6707011602
Hinnom Valley from south, db6701052907
Hinnom Valley with Monastery of St Onuphrius, db6401192105
Hinnom Valley with Sultan's Pool from south, db6607262508
Israel Museum under construction, db6412240610
Jaffa Road view to Zion Square, db6801192510
Jerusalem and Mt of Olives from southwest, db6511110104
Jerusalem and Mt of Olives from west, db6607082109
Jerusalem from Mt of Olives panorama, db6804104006
Jerusalem from Mt of Olives panorama, db6804104007
Jerusalem from Mt of Olives panorama, db6804104008
Jerusalem from Nebi Samwil with Beit Iksa, db6911157510
Jerusalem snowfall on Bethlehem Road, db6801152404
Jerusalem snowfall on Shimshon St, db6801152402
Jerusalem view east to Government House, db6709051802
Jerusalem view from Mount of Olives, db6601080504
Jerusalem view from Mt of Olives, db6911157607
Jerusalem view from Mt of Olives, db6911157608
Jerusalem view north from Beit Jalla, db6811095803
Jerusalem view north from Beit Jalla, db6811095805
Jerusalem view north with Har Herzl, Nebi Samwil, db6709051805
Jerusalem view nw from Mount of Olives, db6601080505
Jerusalem view se from YMCA tower, db6605292310
Jerusalem view south from Nebi Samwil, db6911157505
Jerusalem view south from Nebi Samwil, db6911157507
Jerusalem view south from YMCA tower, db6605292309
Jordanian workers carving building stones, Mt Zion, db6804154102
Kidron Valley from north, db6401192109
Kidron Valley view north to Temple Mount, db6401192106
Kidron Valley, City of David, and Silwan from nw, db6804002611
King David Hotel, db6605212210
Knesset building at night, db6805115003
Knesset building, nearing completion, db6412240608
Knesset under construction, db6308190512
Malha, biblical Manhat, from west, db6810115611
Mandelbaum Gate from north, db6709051808
Mandelbaum Gate, db6707010605
Mandelbaum Gate, Israel Jordan border crossing, db6307250503
Nablus Road, north of Jerusalem, db6403282609
Old City and Hinnom Valley from south, db6707011501
Old City from west, db6605212212
Pool of Siloam, db7708000103
Post-war rubble on Mamilla St, db6707031609
Russian Compound Holy Trinity Church, db6307250501
Sanhedrin tombs, db6307250505
Sultan's Pool, Mt Zion, Bishop Gobat school, db6607262507
Tomb of the Sanhedrin, 1st century AD, db6307250507
Turjeman House near Mandelbaum Gate view sw, db6709282001
Wadi Joz view southeast, db6905207311
West Jerusalem and Old City from west, db6607082106
West Jerusalem from Hebrew U, db6604101609
West Jerusalem view ne from YMCA tower, db6605292312
West Jerusalem view north from YMCA tower, db6605292311
West Jerusalem view nw from YMCA tower, db6605292308
Jerusalem, Old City
Church of Holy Sepulcher from Lutheran church, db6707031710
Church of Holy Sepulcher with scaffolding, db6412240404
Church of Holy Sepulcher with scaffolding, db6412240405
Citadel gate tower reconstruction, db6707031706
Citadel of David from Hutzot HaYotzer, db6911157701
Citadel of David interior, db6804002601
Damascus Gate market inside Old City, db6412240506
Damascus Gate parking lot, db6709051810
Damascus Gate swarming with Israelis, db6709051811
Damascus Gate with Hadrian's arch, db6806245103
Damascus Gate, db6709051809
David's Citadel from south, db6707011503
Dome of Rock from northwest, db6709051903
Dome of the Rock from Mount of Olives, db6401192205
Dome of the Rock from south, db6804154201
Dome of the Rock from south, db6804154203
Double Gate and southern steps, db7708000109
Excavations below Robinson's Arch, db6803245204
Excavations below Robinson's Arch, db7708000210
Excavations near Temple Mount sw corner, db7708000209
Excavations south of Temple Mount, db7708000101
Golden Gate from Garden of Gethsemane, db6808205506
Golden Gate from Temple Mount, db6806245108
Golden Gate view from west, db6806245109
Hinnom Valley from Jaffa Gate view south, db6707031610
Jaffa Gate shortly after 1967 war, db6707011505
Jaffa Gate view from inside Old City, db6707031704
Jaffa Gate with Israeli soldiers, db6707031612
Jerusalem skyline with Dome of Rock, db6810115609
Jerusalem skyline with minaret and Mt of Olives, db6810115608
Jewish Quarter excavations by southern wall, db7708000105
Jewish Quarter steps to Western Wall, db7708000108
Jordanian ammunition stored at Citadel of David, db6707031707
Jordanian ammunition transfer from Citadel of David, db6707031708
Mikveh west of Temple Mount, db7708000203
Mikveh west of Temple Mount, db7708000211
Mikveh west of Temple Mount, db7708000212
Muslim Quarter view west on Ala E-Din St, db6806245105
Old City doorway with boys, db6604071102
Old City plaza inside Jaffa Gate, db6707021606
Old City rooftops from east, db6412240303
Old City southern wall with Al Aqsa Mosque, db6401192101
Old City southern wall with Dome of the Rock, db6401192102
Old City street with Hinky Dinky bar, db6412240508
Old City street, db6601090708
Old City street, db6601090710
Old City view s from Lutheran church tower, db6707031711
Old City view to Western Wall and Dome of Rock, db6401192103
Old City wall and Jaffa Gate from north, db6805114901
Old City wall near Jaffa Gate, db6804002610
Old City western wall and Citadel view south, db6707031611
Old City western wall and David's Citadel from s, db6804002605
Old City western wall with rubble from No Man's Land, db6707011511
Old City western wall with rubble from No Man's Land, db6707011601
Orthodox Jews buying from Arab boys at Jaffa Gate, db6707031701
Pool of Bethesda, db6412240305
Robinson's Arch with new excavations, db6806245201
Robinson's Arch with new excavations, db6808205507
Sister Benjamin in Old City, db6412240301
Southern Old City wall excavations, db7708000110
Temple Mount fallen stones, db7708000201
Temple Mount southwestern corner, db7708000205
Temple Mount southwestern corner, db7708000206
Temple Mount southwestern corner, db7708000208
Temple Mount with Dome of the Rock, db6401182010
Wailing Wall with Nadir, db6401182012
Western Wall from above, db6804154105
Western Wall men's prayer area, db6804154108
Western Wall men's prayer area, db6804154110
Western Wall plaza under construction, db6804154109
Western Wall plaza under construction, db6806245202
Western Wall prayer area, db6804154106
Western Wall prayer area, db6804154111
Western Wall women's prayer area, db6804154104
Western Wall, db6804154103
Jezreel Valley
Beth Shean tell from southwest, db6804063302
Beth Shean tell from theater, db6704090811
Beth Shean theater entrance and tell, db6704080902
Beth Shean theater stage, db6804063303
Beth Shean theater with view to Jordan Valley, db6704080901
Beth Shean theater, db6704080812
Beth Shean view east to Jordan Rift and Gilead, db6505152005
Beth Shean view from tell, db6505152004
Ein Harod and Mt Gilboa, db6704080805
Ein Harod new swimming pool, db6405293206
Ein Harod with reenactment of Gideon story, db6704080804
Ein Harod with stream, db6405293207
Harod Valley from Tel Jezreel, db6704070802
Harod Valley, Hill of Moreh view n fr Mt Gilboa, db6505151812
Harod Valley, Moreh and Mt Tabor from Gilboa, db6505151908
Jenin area from Mt Gilboa view west, db6704080807
Jezreel Valley, Mt Tabor, Nazareth ridge fr Megiddo, db6704060611
Jezreel Valley, Mts Tabor and Moreh from Megiddo, db6704020408
Jezreel Valley, Mts Tabor and Moreh from Megiddo, db6704040411
Kibbutz Nir David with stream, db7309280109
Megiddo casemate wall from west, db6704060601
Megiddo casemate wall with Yigal Shiloh, db6704060606
Megiddo Early Bronze temple, sacrificial altar, db6704060609
Megiddo excavation casemate wall and Y Shiloh, db6704020404
Megiddo excavation of Solomonic palace, db6704060512
Megiddo excavation Solomonic northern palace, db6704070703
Megiddo excavation Solomonic palace view ne, db6704070707
Megiddo excavation Solomonic palace, Avner Goren, db6704070710
Megiddo excavation with Dunayevsky, db6704060604
Megiddo excavation with Yigael Yadin, db6704020403
Megiddo excavation, Str IVA staircase with Yadin, db6704070711
Megiddo excavation, Stratum IVA staircase, db6704070712
Megiddo MBII bowl in situ, db6704020312
Megiddo offset inset wall with Jezreel Valley, db6703290201
Megiddo Rockefeller Expedition housing, db6703300210
Megiddo Solomonic gate from west, db6703300211
Megiddo watersystem excavation, db6703300209
Megiddo watersystem Gallery 629 view east, db6703300208
Megiddo watersystem Gallery 629, db6703280108
Megiddo watersystem staircase, db6704060612
Sachne pool with Israeli tourists, db6405303305
Sachne pool, db6405303307
Sachne pool, db6405303311
Jordan
Amman Roman theater with view to citadel, db6402002508
Amman Roman theater, db6402002507
Amman Temple of Hercules, db6402002505
Amman view of city and theater from citadel, db6402002503
Dead Sea view west from Macherus, db6604091308
Deir Alla, Succoth, excavations view ne to Gilead, db6504201607
Deir Alla, Succoth, view nw to Jordan Valley, db6504201606
Gerasa Cardo from north gate, db6604101502
Gerasa Cardo pillars with Corinthian capitals, db6604101501
Gerasa Cardo with standing pillars, db6402002512
Gerasa Cardo with standing pillars, db6402002513
Gerasa excavations from north, db6402002604
Gerasa hippodrome and triumphal arch closeup, db6604101602
Gerasa hippodrome and triumphal arch, db6604101602
Gerasa oval plaza and Cardo from south, db6402002608
Gerasa oval plaza with temple of Zeus, db6604101511
Gerasa St Theodore church, db6402002606
Gerasa Temple of Artemis, db6402002603
Gerasa triumphal arch of Hadrian, db6604101605
Gerasa triumphal arch of Hadrian, db6604101606
Gerasa Western Baths arch, db6604101505
Iraq el-Emir cave with Tobiah inscription, db6604101409
Jabbok River view to east, db6604101607
Jordan Valley, fr Succoth to Alexandrium Sartaba, db6504201604
Jordanian day laborers on rest break at Petra, db6504191512
Macherus from east, db6604091303
Macherus Roman siege ramp from above, db6604091311
Macherus Roman siege ramp, db6604091310
Macherus stairway on eastern side, db6604101401
Man plowing field near Wadi es-Sir, db6604101411
Medeba map showing Egypt and Nile, db6604091212
Nahal Arnon from northwest, db6604101402
Nahal Arnon with David Bivin, db6604101403
Nahal Arnon, db6604101404
Pella Bronze Age ruins, view ne, db6504201704
Pella with wadi and Roman temple ruins, db6504201706
Petra acropolis from distance, db6504191502
Petra donkey in field, db6504191503
Petra Kazneh, Treasury, db6504191404
Petra Obelisk temple, db6504191301
Petra Roman Cardo, db6504191511
Petra Siq from Kazneh, Treasury, db6504191409
Petra Siq with Kazneh, Treasury, db6504191311
Petra Siq, db6504191304
Petra Siq, db6504191305
Petra Siq, db6504191308
Petra theater area, db6504191507
Petra theater, db6504191508
Petra view from above, db6504191412
Teleilat Ghassul and northern end of Dead Sea, db6604091207
Tell es-Saidiyeh excavation with Jordanian day laborers, db6504201611
Tell es-Saidiyeh water system, db6504201610
Thorns, wheat field near Iraq el-Emir cave, db6604101410
Wadi es-Sir near Iraq el-Emir, db6604101407
Jordan Rift and Dead Sea
Alexandrium Sartaba from northeast, db7304220201
Belvoir Arab village with Mt Tabor, Hill of Moreh, db6405293210
Dead Sea from cliffs above En Gedi, db6904206912
Dead Sea southern area from west, db6804043009
Dead Sea with Lisan from Masada, db6503030807
En Gedi and Dead Sea from above, db6904206910
En Gedi Chalcolithic temple and Dead Sea from w, db6904207008
En Gedi view of Dead Sea, rainbow from Tell Goren, db6504031106
Jericho Elisha's Fountain from tell, db6601080603
Jericho from west with Dead Sea, db8003000103
Jericho Herodian excavations with Wadi Qilt, db6601080508
Jericho Hisham's Palace bathhouse, db6601080605
Jericho modern street scene, db6601080606
Jericho Neolithic tower with Bivin, db6402002405
Jericho refugee camp and Jordan Valley, db6601080706
Jericho southern trench excavations, db6601080511
Jericho Squares E I, E II, E V, view west, db6601080602
Jericho sycamore tree, db6402002402
Jericho western trench view west, db6402002404
Jordan River south of Sea of Galilee, db6804063307
Jordan River, db6601080703
Jordan River, db6601080705
Judean wilderness cliffs along Dead Sea, db8004000108
Masada and Dead Sea fr west with Shiloh, Barkay, db6503030706
Masada ascending snake path, db6401071601
Masada excavations from north, db6607172410
Masada excavations near northern palace, db6401071608
Masada excavations near storehouses, db6401071610
Masada excavations, db6401071603
Masada excavations, db6401071702
Masada excavations, students and Dunayevsky, db6503030803
Masada excavations, Yadin's headquarters, db6503030708
Masada from east, db6504031102
Masada from east, db6607172501
Masada Herod's northern palace frescoes, db6804043109
Masada reconstructed storehouses and Dead Sea, db6804043107
Masada Roman siege ramp from base, db6503030707
Masada storehouses, bathhouse, northern palace, db6401071609
Masada to En Gedi road, washed out from rains, db6504031101
Masada to En Gedi road, washed out from rains, db6504031103
Naharayim reservoir, view to Jordan, db6704080907
Naharayim water gates of Jordan River, db6704080904
Naharayim, junction of Jordan and Yarmuk Rivers, db6704080903
Naharayim, junction of Jordan and Yarmuk Rivers, db6704080909
Qumran and Dead Sea from west, db6601080607
Qumran and Dead Sea from west, db6601080609
Judah
Almond tree in bloom at Moza, db7701000404
Almond tree in bloom, American Colony, db721100p075
Beitar view from southeast, db6811095809
Bethlehem Church of Nativity entrance, db6808205508
Bethlehem Shepherds Fields and Mts of Moab, db6601060303
Bethlehem Shepherds Fields service, Christmas Eve, db6412240309
Bethlehem Shepherds Fields with Herodium, db6808205510
Ekron view north to Gezer, db6604231810
Elah Valley with Iron Age wall at Socoh, db6411190209
Etam from Solomon's Pools, db6811095811
Gezer excavation trench from east, db6804053202
Gezer high place with standing stones, db6804053210
Gezer Solomonic gate from east, db6804053208
Gezer Solomonic gate from north, db6804053209
Gezer Solomonic gate southern side, db6804053204
Hebron Cave of Machpelah new excavations, db6811095909
Hebron Cave of Machpelah new excavations, db6811095910
Hebron Machpelah tomb of patriarchs, db6601060206
Hebron Oak of Mamre, db6601060210
Hebron view southeast to Jebel Jalis, db6601060209
Herodium from south, db6811095911
Herodium interior with eastern tower, db6601060310
Herodium interior with northern tower, db6601060306
Jebel Qaaqir Intermediate Bronze shaft tomb, db6811166008
Jebel Qaaqir Intermediate Bronze shaft tomb, db6811166009
Jebel Qaaqir Intermediate Bronze shaft tombs, db6811166006
Judean hills with view to Ein Kerem, db7503040102
Judean wilderness and Dead Sea from Herodium, db6601060307
Judean wilderness in spring, db6402002312
Kh Beit Zeitha from east, db6811095901
Kh Burj es Sur with Kh et-Jubeiqa, db6811095904
Kiriath Jearim view west to Abu Gosh and Castel, db6610292807
Mamre, Haram Ramet el Khalil wall, db6811095906
Mamre, Haram Ramet el Khalil wall, s wall, db6811095907
Mamre, Haram Ramet el Khalil wall, w wall, db6811095908
Mamre, Haram Ramet el Khalil, db6811095905
Nahal Sorek view east from Beitar, db6811095808
Palestinian refugee camp, db6402002308
Sea level sign in Judean wilderness, db6402002311
Shepherd in Bethlehem fields on Christmas Eve, db6412240308
Simiya and Deir Samit area from west, db6811166004
Simiya and Deir Samit with plowed fields from w, db6811166003
Solomon's Pools, lower pool, db6811095812
Solomon's Pools, middle pool full of water, db6402002309
Solomon's Pools, middle pool, db6601060301
Solomon's Pools, middle pool, db6811095810
Tel Erani lower tel excavations, db6411190202
Tel Nagila, db6604221708
Tell el-Hesi from southeast, db6604221703
Wadi Atsal from Abu Tor view east, db6701052812
Wadi Qilt with children swimming, db7608240508
Wadi Qilt with Herodian aqueduct, db7608240505
Wadi Qilt with water, db7608240503
Modern Israel
Arab tank captured in Six-Day War, db6710002305
Children in Purim costumes, db810319p175
Druze wedding in village of Hurfesh, db6311161201
German Panzer tank, db6710002310
Independence Day parade with color guard, db6805024711
Independence Day parade with crowd, db6805024606
Independence Day parade with Hawk missiles, db6805024604
Independence Day parade women's corps, db6404163110
Independence Day parade, Air Force maneuvers, db7305070307
Independence Day parade, bridging equipment, db7305070502
Independence Day parade, captured Egyptian tanks, db6805024712
Independence Day parade, color guard, db7305070711
Independence Day parade, Hawk missiles, db7305070602
Independence Day parade, helicopter formation, db7305070401
Independence Day parade, lightweight cannons, db7305070511
Independence Day parade, military parade, db7305070411
Independence Day parade, Mirage fighters, db7305070302
Independence Day parade, rocket launcher, db6805024708
Independence Day parade, Russian rocket, db6805024701
Independence Day parade, transport planes, db7305070403
Independence Day parade, women soldiers, db7305070702
Independence Day, air force maneuvers, db6805024408
Independence Day, air force maneuvers, db6805024411
Independence Day, Fouga Magister flyover, db6805024412
Independence Day, Israeli Air Force acrobatics, db6805024511
Israel Natl League soccer game in German colony, db6810125707
Israeli Centurion tanks at Armored Corps camp, db6710002210
Israeli soldiers in front of Armored Corps camp, db6710002201
Jaffa Road with parade, db6504081204
Jerusalem Baptist Chapel, Narkis St, db6605212207
Jerusalem City Hall building, 20th anniversary, db6805114912
Jerusalem Independence Day decorations, db6805114903
Kindergarten in Jerusalem, db6709282006
Kindergarten in Jerusalem, db6709282101
Kindergarten in Jerusalem, db6709282102
Mourning procession for Gamal Abdel Nasser, db7010017808
National Water Carrier under construction, db6310071001
Purim contest at Jeusalem Biblical Zoo, db6503190808
Purim party for Megiddo excavation team, db6703260106
Shemer Sisters quartet singing on stage, db6604251904
Student demonstration at Hebrew U, db6605042005
Sukkah with children, db6810125701
Sukkah with family from Tunisia, db6810125702
Wedding with rabbi reading ketubah, db6704101311
Yemenite folk dancing group, Paamonim, db6406213512
Zikhron Yaakov winery, bottling wine, db6308200604
Negev
Abraham, Isaac, Jacob street signs in Beersheba, db7109238109
Arabah, Aqaba, mountains of Edom from nw, db7904160405
Arad modern city under construction, db6503030701
Arad new apartment housing, db6401061412
Aravah, Neot Hakikar farms with child, db8004000209
Avdat experimental farm, db6904186503
Avdat ruins from below, db6904186609
Bedouin tent interior, near Beersheba, db6401061509
Bedouin tent of Sheikh Abu Miamar near Beersheba, db6401061503
Bedouin tent with camel, near Beersheba, db6401061505
Bedouin tents near Beersheba, db6904196706
Beer Safadi, Chalcolithic site near Beersheba, db6504020907
Beersheba Bedouin market, db6804042904
Beersheba Bedouin market, db6804042905
Beersheba Bedouin market, db6804042908
Beersheba Bedouin market, db6804042910
Beersheba bus station, db6804042801
Beersheba tell from north, db6904196612
Beersheba train station, db7109238203
Beersheba view from highest building, db7109238204
Beersheba view from highest building, db7109238205
Beersheba view from highest building, db7109238206
Beersheba view from highest building, db7109238207
Beersheba, new apartments under construction, db7109238101
Beersheba, new apartments under construction, db7109238103
Beersheba, University of Negev library construction, db7109238202
Eastern Negev scenery, db6804043007
Eilat new construction near shopping center, db6401081905
Eilat Red Sea and beach hotels, db6401081903
Eilat shopping center, db6401081907
Gerar sheikh's tomb with Bivin, db6504010902
HaRukhot Plain and Iron Age water reservoir, db6504021002
Mampsis church with mosaics, db6904186310
Mampsis excavations, db6904186407
Mampsis excavations, db6904186412
Mampsis excavations, db6904186508
Mampsis mosaics covered with dirt, db6904186406
Mampsis wadi in area, db6904186306
Mampsis wadi in area, db6904186308
Mampsis wadi with dams, db6904186401
Mizpe Ramon, db6401092001
Mizpe Ramon, db6504021008
Nahal Besor from Tell Jemmeh, db6604221710
Nahal Besor from Tell Sharuhen, db6604221712
Nahal Besor from Tell Sharuhen, db6604221802
Nahal Zin from north, db6904186604
Nahal Zin from north, db6904186610
Nahal Zin, db6504020910
Nahal Zin, db6504020911
Nahal Zin, db6504021001
Negev erosion after rains, db6401061404
Sphinx of Eilat, db6401081902
Tamarisk tree at Beer Safadi, db6504020908
Tel Arad Early Bronze city excavations, db6904196809
Tel Arad Israelite fortress from below, db6904196811
Tel Arad slope with sheep, db6904196803
Tel Malhata excavations, db6904196707
Tel Malhata view to northwest, db6904196709
Tel Masos from west, db6904196712
Tell Jemmeh, Petrie excavation remains, db6604221709
Tell Sharuhen from northwest, db6604221711
Timna Solomon's Pillars, db6401081812
People of Interest
Abraham Malamat and students, db6806255211
Abraham Malamat in classroom with Bivin, db6605232307
Aharon Kempinski lecturing, with Yadin, Dunayevsky, db6703260102
Alfred Gottschalk, Nelson Glueck at Hebrew Union, db6307060309
Anson Rainey and David Bivin on Mt Gerizim, db6804084003
Avraham Negev and David Bivin at Al Aqsa mosque, db6806245112
Barkay, Stern, Kallai, Malamat, and Rokeah, db6806255407
Ephraim Stern teaching at Gibeon, db6806255304
Expedition members Purim party with Yigael Yadin, db6703260105
G Barkay, Michael Avi-Yonah on Temple Mount, db6806245107
Hanoch Reviv and Haim Beinart at Mizpah, db6806255401
Immanuel Dunayevsky lecturing at Megiddo, db6703260104
Kibbutz Degania founder Baratz, Syrian tank, db6308230903
Malamat, Kallai, Herr at Mizpah offset, inset wall, db6806255307
Michael Avi-Yonah and David Bivin at Golden Gate, db6806245110
Moshe David Herr at water source of Gibeon, db6806255302
Safrai, Stern and Kallai at Gibeon, db6806255212
Yigael Yadin lecturing at Megiddo, db6703260103
Yohanan Aharoni with students at Tel Erani, db6411190205
Yohanan Aharoni with students at Tel Erani, db6411190206
Samaria
Ai, et-Tell, from Bethel, Beitin, db6403303006
Ai, et-Tell, palace or temple, db6604081203
Ai, et-Tell, view east with Deir Dibwan, db6806255405
Benjamin Plateau from Gibeon toward Ramallah, db6604081108
Benjamin view west from Nebi Samwil, db6911157508
Dothan excavations and view of Dothan Valley, db6403282808
Dothan from Dothan Valley, db6601070406
Dothan tell view southeast, db6403282806
Dothan Valley from Tell Dothan, db6403282809
Dothan Valley from Tell Dothan, db6403282810
Dothan Valley with donkeys, db6905207207
Gibeah and Jerusalem from Nebi Samwil, db6911157509
Gibeah of Saul view south to Jerusalem, db6604081103
Gibeah of Saul view west to Nebi Samwil, db6604081104
Gibeah of Saul, glacis wall of Saul's palace, db6604081105
Gibeah view east from Nebi Samwil, db6911157506
Gibeah, Saul's palace with view s to Jerusalem, db6403302905
Gibeon steps of water shaft with Bivin, db6604081106
Gibeon view north from Nebi Samwil, db6911157511
Gibeon wine storage vats, db6604081110
Gibeon, el-Jib, from east, db6403302907
Gifna village, ancient Gophna, db6403282611
Jacob's Well church interior, db6403282709
Jacob's Well compound view north to Sychar, db6403282703
Lebonah Valley, db6403282701
Mizpah glacis, db6604081111
Mizpah outer wall, db6604081112
Mt Gerizim from Shechem, db6403282705
Mt Gerizim from Tell er-Ras Roman temple, db6905207212
Mt Gerizim Tell er-Ras Roman temple excavations, db6905207301
Mt Gerizim Tell er-Ras Roman temple excavations, db6905207304
Mt Gerizim Tell er-Ras Roman temple steps, db6905207302
Mt Gerizim view to Roman temple and Mt Ebal, db6905207210
Nebi Samwil from Gibeon, db6604081109
Samaria forum with Bivin, db6601070412
Samaria Hellenistic city gate towers with Bivin, db6601070411
Samaria Hellenistic city tower, db6804083908
Samaria Hellenistic tower and Israelite wall, db6804083802
Samaria Hellenistic tower from above, db6804083804
Samaria Hellenistic tower, db6601070407
Samaria Hellenistic tower, db6804083803
Samaria Hellenistic tower, Israelite wall, theater, db6804083801
Samaria Herodian temple column bases, db6804083810
Samaria Herodian temple stairs and altar base, db6804083809
Samaria Herodian temple stairs, db6804083806
Samaria Israelite acropolis view north, db6804083812
Samaria Roman street of columns from above, db6804083902
Samaria Roman street of columns, db6804083906
Samaria Roman street of columns, db6804083910
Samaria Roman theater from above, db6804083805
Samaria Roman theater, db6804083712
Samaria view from tell to village of Sebastiyeh, db6403282711
Samaria view west, db6403282803
Samaria, American Schools excavation, db6804083903
Samaritan priest and Bivin's mother on Mt Gerizim, db6804083912
Samaritan priest and Pentateuch, db6601070502
Shechem and Sychar from Mt Gerizim, db6804084004
Shechem Balata refugee camp view to east, db6403282704
Shechem eastern Late Bronze gate, db6804083911
Shechem excavations with Mount Ebal, db6403282706
Shechem Middle Bronze wall with Mount Gerizim, db6403282708
Shechem temple of Baal Berith view west, db6403282707
Shechem temple of Baal Berith with Mt Ebal, db6604081206
Shiloh tell view to south, db6403303005
Shiloh view northeast to wadi, db6403303003
Shiloh with Shmuel Safrai, db6806255403
Tell el Farah North, Tirzah, excavations, db6601070402
Tell el Farah North, Tirzah, excavations, db6601070403
View east from Gibeah to Dead Sea, db6403302904
Wadi Lubban view northwest of Shiloh, db6604081205
Sinai
Aaron's hill near Plain of er-Raha, db7601000210
Bedouin children at Jebel Musa, db7601000106
Burning bush inside St Catherines Monastery, db7601000203
Cliffs of Ophira and coral beds, db7904160310
Coral Island from west, db7601000311
Jebel Musa from below, db7601000108
Jebel Ras Safsafa from St Catherines Monastery, db7601000110
Mizpe Shaham view south, db7904140111
Monument near Jebel Musa, db7601000207
Nuweiba el-Muzeini, view to east, db7904140209
Red Sea with coral and white sand, db7904140201
Sharm el-Sheikh, bay of Ophira, db7904160403
Sinai airport under construction, db7601000302
Sinai coast at Sharm el-Sheikh, db7904160401
Sinai coast view north from Mizpe Shaham, db7904140203
Sinai fjord south of Coral Island from north, db7904130104
Sinai mountains near Jebel Musa, db7601000201
Sinai trip, fish and lobster, db7904150302
Sinai trip, lobster, db7904150301
St Catherines Monastery interior and view, db7601000204
St Catherines Monastery rooftops, db7601000205
Sunrise over Red Sea from Bir Suweir, db7904140107