The American Colony and Eric Matson Collection:
Early 20th-Century History
Founded in 1881 by Horatio Spafford (author of the famous hymn, It is Well With My Soul), the American Colony in Jerusalem operated a thriving photographic enterprise for almost four decades. Their images document the land and its people, with a special emphasis on biblical and archaeological sites, inspirational scenes, and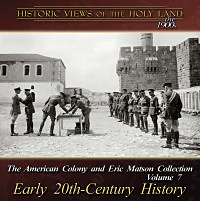 historic events. One of the photographers, G. Eric Matson, inherited the archive, adding to it his own later work through the "Matson Photo Service." He eventually donated all the negatives to the U.S. Library of Congress, which has made them available to the public.
This volume includes more than 400 selected photographs of important figures and events from the pre-1948 history of Palestine, including the visit of Kaiser Wilhelm to Jerusalem (1898), the surrender of Jerusalem (1917), the Arab Riots (1920s), the founding of Hebrew University (1925), and Zionist projects in Palestine. All of the images are included in pre-made PowerPoint® files for quick and easy use, as well as in high-resolution jpg format, suitable for projecting or printing.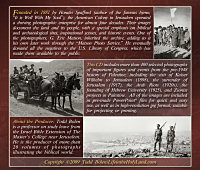 Free: Download the 1917 Turkish Surrender PowerPoint file.
About the Producer: Dr. Todd Bolen is a Professor of Biblical Studies at The Master's University. He lived and taught for many years at their campus near Jerusalem. He is the producer of more than 45 volumes of photographs illustrating the biblical world, including the Pictorial Library of Bible Lands and the Photo Companion to the Bible.
Cost: $20 $15 (free shipping in the U.S.)
Or buy the complete 8-volume set for $189 $99.
Guarantee: You will be satisfied or your money will be refunded.

List of Photographs in the Volume
PowerPoints
1898 Wilhelm's Visit.ppt
1917 Turkish Surrender.ppt
1917 World War I.ppt
1920 Arab Riots.ppt
1925 Hebrew University.ppt
1927 Earthquake.ppt
1929 Arab Riots and Aftermath.ppt
1944 Jewish Brigade.ppt
1945 Post World War II.ppt
Arab Personalities.ppt
British Mandate Projects.ppt
British Personalities, Herbert Samuel.ppt
British Personalities, James Balfour.ppt
British Personalities, Winston Churchill.ppt
British Personalities.ppt
Miscellaneous.ppt
Ottoman Rule.ppt
Tel Aviv.ppt
Zionist Agricultural Settlements, Rishon LeZion.ppt
Zionist Agricultural Settlements.ppt
Zionist Industrial Works.ppt
1898 Wilhelm's Visit
Wilhelm visit, Arab lancers in street procession
Wilhelm visit, arch near German Consulate
Wilhelm visit, band beside Church of Redeemer
Wilhelm visit, Church of Redeemer dedication
Wilhelm visit, crowd at Jerusalem railroad station
Wilhelm visit, emperor and empress at Dome of Rock
Wilhelm visit, emperor and empress at Tomb of Kings
Wilhelm visit, emperor and empress sightseeing
Wilhelm visit, emperor in street procession
Wilhelm visit, emperor leaving camp
Wilhelm visit, emperor riding, Citadel behind
Wilhelm visit, emperor, empress at garden reception
Wilhelm visit, interior of camp
Wilhelm visit, Jaffa Road during procession
Wilhelm visit, landing of emperor at Haifa
Wilhelm visit, royal party at Tomb of Kings
Wilhelm visit, royal party entering Jerusalem
Wilhelm visit, Turkish guards at camp entrance
Wilhelm visit, visiting Tomb of Kings
1917 Turkish Surrender
Allenby accepts surrender of Jerusalem officials
Allenby entry 1917, Allenby and Pasha at Citadel
Allenby entry 1917, Allenby receiving notables
Allenby entry 1917, Allenby receiving notables
Allenby entry 1917, Pasha reading proclamation
Allenby entry 1917, proclamation read in Arabic
Allenby entry 1917, troops entering Jaffa Gate
Allenby entry, Jaffa Gate, British troops line streets
Allenby entry, on horseback at Jaffa Gate
Allenby entry, proclamation of martial law
Allenby entry, Russian compound, British troops
Allenby investiture
Allenby parade and investiture
First British flag flying over Government House
Investiture 1918, Allenby invested with decorations
Investiture 1918, Allenby shaking hands with Duke
Investiture 1918, generals Allenby and Chetwode
Surrender 1917, copy of letter of surrender
Surrender 1917, General Shea, accepted surrender
Surrender 1917, Jerusalem with two sergeants
Surrender 1917, Major Barry, 1st officer to arrive
Surrender 1917, sergeants Sedgewick and Hurcomb
Surrender 1917, Watson, 1st officer to enter city
Surrender Monument in Romema Colony
Surrender of Jerusalem, 1917, British generals
Surrender of Jerusalem, 1917, el Husseini
Surrender of Jerusalem, 1917, Turkish prisoners
Surrender to British, 1917, British general arrival
Surrender to British, 1917, first British guard
Surrender to British, 1917, mayor with white flag
Surrender to British, 1917, Watson and mayor
Surrender to British, 1917, Watson at Jaffa Gate
1917 World War I
Army signpost
British artillery passing through Jerusalem
British artillery
Disabled tank at Gaza
German prisoners of war arriving at Jerusalem
German prisoners of war in Jerusalem
Mount Scopus, Australian light horse
Nebi Samwil from British trenches
Nebi Samwil from Turkish trenches
Nebi Samwil, interior of demolished mosque
Nebi Samwil, ruined mosque, distant view
Nebi Samwil, ruined mosque, heap of debris
Nebi Samwil, ruined village
Nebi Samwil, ruins inside mosque
Nebi Samwil, unexploded bomb in mosque wall
Railroad car where armistice was signed, 1918
Results of war, Ramadan salute by British battery
Soldier's grave, Jerusalem, Lieutenant Worthington
Soldiers' graves, Mount Scopus, Jerusalem
Tell el Ful battle, Turkish casualties
Tell el Ful battlefield, dead Turks in battlefield
Tell el Ful battlefield, fallen Turks in field
Tell el Ful battlefield, grave with fallen Turks
Tell el Ful battlefield, large grave of dead Turks
Tell el Ful battlefield
Tell el Ful battlefield, Turk killed throwing bomb
Temporary railway near tombs of Judges
Turkish military, men dancing with swords
Turkish officers visiting Jerusalem, Cemal Pasa
War cemetery at Deir el Belah
War cemetery at Gaza consecration
War cemetery at Gaza
War cemetery at Ramle
War cemetery on Mount Scopus, Jerusalem
WWI, German troops on parade, in city
WWI, German troops on parade
WWI, German troops on parade, men on horses
WWI, Turkish officers visiting Jerusalem Parade
1920 Arab Riots
Arab demonstration, March 8, 1920
Arab riots, June 30, 1920
British checking Arab for arms, Jaffa Gate
British checking Greek priest for arms, Jaffa Gate
British checking Jew for arms, Jaffa Gate
British checkpoint, Jaffa Gate
British soldiers prepared for riots
British soldiers with Lewis guns inside St Stephen's Gate
British soldiers with machine guns posted at Jaffa Gate
Indian and British guards, St Stephen's Gate
Machine gun company, outskirts of Jerusalem
Plane over Jerusalem, British preparation for riots
1925 Hebrew University
Allenby, Balfour and Samuel at Hebrew University
Arab black flags, protest of Hebrew U opening
Arab market closed, protest of Hebrew U opening
Hebrew University, Balfour at opening ceremony
Hebrew University, empty amphitheater
Hebrew University, laying foundation stone, July 1918
Hebrew University
Hebrew University, opening ceremony
Hebrew University, Samuel speaking at opening
Hebrew University, Weizmann speaking at opening
Opening of Hebrew University, lab, 1925
1927 Earthquake
Earthquake of 1927, damage in street
Earthquake of 1927, damaged building
Earthquake of 1927, damaged main building of Augusta
Earthquake of 1927, damaged room of Augusta
Earthquake of 1927, deep fissures near Dead Sea
Earthquake of 1927, great rifts on Jordan River banks
Earthquake of 1927, house on Mount of Olives
Earthquake of 1927, Jericho, Winter Palace Hotel
Earthquake of 1927, Jordan River checked by caving banks
Earthquake of 1927, landslide at Jordan, reed house
Earthquake of 1927, mosque on Mount of Olives
Earthquake of 1927, Nablus, blocked up street
Earthquake of 1927, Nablus, destroyed house
Earthquake of 1927, Nablus, general view of damage
Earthquake of 1927, St John's Convent at Jordan River
1929 Arab Riots and Aftermath
1929 riots, Artuf burning, Jewish colony
1929 riots, proclamation by Chancellor
1929 riots, second proclamation by Chancellor
1929 riots, Shaw Commission of Inquiry
1929 riots, telegram to commissioner from Arab Exec
Arab protest delegation to London
Pan-Islamic conference, Bedouin tent, Shunat Nimrin
Pan-Islamic conference, dinner spread, Shunat Nimrin
Pan-Islamic conference, dinner, Shunat Nimrin
Pan-Islamic conference, group of delegates, Shunat Nimrin
Pan-Islamic conference, in session, Shunat Nimrin
Rawdat el Maaref hall, Arab protest gathering
Wailing Wall Commission
1944 Jewish Brigade
Jewish Brigade recruitment, inspection
Jewish Brigade recruitment, marching
Jewish Brigade recruitment, officer saluting
Jewish Brigade recruitment, soldiers at attention
Jewish Brigade recruitment, soldiers marching
1945 Post World War II
Abdullah, Emir Illah, Emir Naif, Nuri Pasha Said
Air raid shelter at Solomon's Quarries
Arab political conference, American Colony
Attack on Hotel King David on Monday, July 22, 1946
King George VI, birthday parade, camels
King George VI, birthday parade, King David Hotel
King George VI, birthday parade
King George VI, birthday parade, military vehicles
Palestine Inquiry Commission at Dome of the Rock
Police headquarters damaged by Jewish bomb, 1945
Sheikh handing Abdullah proclamation at coronation
Arab Personalities
Emir Abdullah and Emir Shakir, Amman, 1921
Emir Abdullah el Hashemi of Transjordan
Emir Abdullah in Amman
Emir Abdullah with standard in Amman, 1921
Funeral of King Hussein, casket
Funeral of King Hussein, Jerusalem, Al Aqsa Mosque
Funeral of King Hussein, Jerusalem, procession
Funeral of King Hussein, Jerusalem, view of crowds
Hajj Amin al-Husseini in front of al Aqsa Mosque
Hajj Amin al-Husseini, boys school, Dome of the Rock
King Faisal of Iraq, last visit to Jerusalem
King Faisal reviewing troops in Amman
King Farouk of Egypt and his family
King Hussein and Musa Kazim Pasha in Amman
King Hussein in Amman
Mutgal Pasha's sons Sheik Akif and Mahshur
Samuel, Abdullah and Deedes, Amman, 1921
Samuel, Abdullah and Shakir, Amman, 1921
Sultan el Atrash and retinue in tent, Wadi Sirhan
Sultan el Atrash, leader of Druze revolt in 1925
British Mandate Projects
Beit Nabala, YMCA celebration, four Y secretaries
Beit Nabala, YMCA celebration
Beit Nabala, YMCA celebration, opening of Y huts
Beit Nabala, YMCA celebration, pool opened by Allan
Beit Nabala, YMCA celebration, YMCA center
Government House, interior, reception room
Government House, residence of high commissioner
Hebron blind school commencement 1944, boys singing
Hebron blind school commencement exercises 1944
Hebron hospital, nurse's bedroom, Aug 1944
Hebron hospital, operating theater, toward window
Hebron hospital, operating theatre, Aug 1944
Hebron hospital, salon or sitting room, Aug 1944
Hebron hospital, women's ward, Aug 1944
British Personalities
Emir Abdullah, Ronald Storrs on HMS Iron Duke
Governor Edward Keith-Roach
Harold MacMichael, High Commissioner for Palestine
Lawrence flying to el Azrak, 1921
Lawrence ready for flight to el Azrak, 1921
Lawrence, Abdullah, Salmond and Deedes
Lord Plumer group outside of Dome of the Rock
MacMichael in Beersheba courtroom
MacMichael with house party in sunken garden
Sir Ronald Storrs, governor of Jerusalem District
Sir, Lady and Miss MacMichael in sunken garden
Wauchope taking oath of office, Government House
British Personalities, Herbert Samuel
Arrival of commissioner Samuel, king's message read
Commissioner Samuel arriving to Rishon LeZion, 1920
Commissioner Samuel reading proclamation in Amman
Durbar annexing Transjordan in Es Salt
Durbar in Es Salt
Durbar, Samuel annexing Transjordan, Es Salt, 1920
Government House, first time British flag displayed
Herbert Samuel at Amman, April 17, 1921
Herbert Samuel at Amman, April 1921
Herbert Samuel at Jewish colony, July 27, 1920
Herbert Samuel in Ashkelon, Sept 10, 1920
Herbert Samuel reading proclamation, July 9, 1920
Herbert Samuel reception, June 30, 1920
Herbert Samuel, Emir Abdullah on HMS Iron Duke
High commissioner Samuel greeting grand mufti, 1920
High commissioner Samuel talking to peasants, 1920
High commissioner Samuel talking to villagers, 1920
Inaugurating civil administration in Palestine, 1920
Jaffa, high commissioner Samuel landing, 1920
Jaffa, rowboat bringing commissioner Samuel ashore
Jaffa, Samuel and governors of Jerusalem, 1920
New era, Allenby, Samuel and Abdullah
New era, Samuel delivering address
Reading final interpretation of Mandate, 1920
Samuel preceded by Zionist banner, Rishon LeZion
Samuel returning from Durbar, Es Salt
Sir Herbert Samuel, high commissioner, 1920
Sir Samuel, Colonel Lawrence, Emir Abdullah, 1921
British Personalities, James Balfour
Lord Balfour at Jewish colonies
Lord Balfour at Rishon LeZion
Lord Balfour in Tel Aviv
Lord Balfour visit, Arab newspaper special edition
Lord Balfour visit, protest in Arab newspaper
Lord Balfour
Lord Balfour, Samuel, Magnes, Weizmann, opening of Hebrew U
Maccabees parading for Lord Balfour
Visit of Lord Balfour to Jewish colonies
British Personalities, Winston Churchill
Churchill at tree planting ceremony, Hebrew U
Churchill visit, 1921
Churchill, Lawrence and Emir Abdullah
Emir Abdullah, Lawrence, Churchill
Samuel and Churchill at Hebrew U
Winston Churchill and Emir Abdullah, Government House
Winston Churchill and Herbert Samuel in cemetery
Miscellaneous
Arab stamp, Palestine for the Arabs
Board room of golden books in the Zionist buildings
British and Foreign Bible Society Building, 1928
Caravan of Dodges
Christmas Victory card
Dutch airplane disaster, 1934
Golden books, imperishable pages, treated parchment
Jewish protest against White Paper, poster
Jewish protest of White Paper, result of riot
Legal document, 1897
Military trench near Jerusalem
One golden book
Opening of Bible House, April 10, 1928
Printing of Palestine first stamps, Aug 24, 1920
Printing of Palestine postage stamps, Aug 24, 1920
Record of sale of land on Mount Zion, 1897
Three Arabs and new Dodge
YMCA athletic events
Ottoman Rule
Ashraf Bey in American Colony courtyard
Enver Pasha and Djemal Pasha visiting Dome of Rock
Last Turkish celebration of Nebi Musa Feast
Man dancing with swords at American Colony Store
Mayor of Jerusalem and Turkish officer
Osman Fuad and Djemal Pasha at Salahiyeh School
Sherif of Medina and Grand Mufti in carriage, Jerusalem
Turkish airplane in Jerusalem
Turkish camel corps in Jerusalem
Turkish governor in Nazareth
Turkish officers visiting Jerusalem mosque
Turkish soldiers before Tower of David
Turkish soldiers on parade grounds
Turkish troops and band on parade ground
Turkish troops on David Street, 1898
Zeki Bey, military commander of Jerusalem, and staff
Tel Aviv
Funeral of Tel Aviv Mayor Dizengoff, Sept 1936
Tel Aviv Diamond Works, cut and polished diamonds
Tel Aviv, building nearing completion
Tel Aviv, carrying bricks
Tel Aviv, concrete foundations of home
Tel Aviv, constructing brick building
Tel Aviv, constructing street
Tel Aviv, emergency camp
Tel Aviv, finishing upper story
Tel Aviv, immigrants' first home in Palestine
Tel Aviv, immigration camp for Jews
Tel Aviv, Jewish mason at work
Tel Aviv, leveling ground
Tel Aviv, mayor showing city to Balfour
Tel Aviv, modern building completed
Tel Aviv, modern city in Palestine
Tel Aviv, modern street completed
Tel Aviv, preparing for building
Tel Aviv, process of building progressing
Tel Aviv, removing sand dunes
Zionist Agricultural Settlements
Ain Zeitoun, Jewish colony
Ben Shemen
Bnai Brak, bank
Bnai Brak, synagogue
Bnei Brak, Zionist colony, closer view
Borochov, Zionist colony, girls' farm, bee hives
Borochov, Zionist colony, girls' farm, poultry
Children at Negba settlement
Colony at Gideon's Fountain
Commencing Jewish settlement, breaking sod
Commencing Jewish settlement, camp
Commencing Jewish settlement, cultivating ground
Commencing Jewish settlement, digging trench
Commencing Jewish settlement, first wooden house
Commencing Jewish settlement, gathering stones
Commencing Jewish settlement, harvester thresher
Commencing Jewish settlement, harvesting
Commencing Jewish settlement, men and women working
Commencing Jewish settlement, plowing
Commencing Jewish settlement, provisional kitchen
Commencing Jewish settlement, settlers arriving
Commencing Jewish settlement, threshing with board
Commencing Jewish settlement, types of settlers
Degania A, Jewish colony near Semakh
Degania orchards and Sea of Galilee
Gat, babies enjoying sun in their birthday suits
Gat, babies sun bathing, baby home in background
Gat, children of settlement polishing their shoes
Gat, children, close view
Gat, infant cages
Gat, Jewish settlement, east of Gaza road
Harvesting, Jewish colony
Jewish colony, farm scene
Jewish colony
Jewish colony, woman in wheat field
Kefar Yeladim, formerly children's colony
Mishmar HaYarden, Jewish colony
Mishmar HaYarden
Modern harvester in Jezreel Valley
Nahalal, agricultural school, picking violets
Nahalal, girl's agricultural school, cow shed
Nahalal, girl's agricultural school, dining room
Nahalal, girl's agricultural school, group
Nahalal, girl's agricultural school, milking cows
Nahalal, girl's agricultural school, student
Nahalal, Girls' agricultural training school
Rehovot
Rosh Pinna
Tell Hai Farm, Jewish colony
Zikhron Yaakov, synagogue exterior
Zikhron Yaakov, synagogue interior
Zionist Agricultural Settlements, Rishon LeZion
Rishon LeZion, administration building
Rishon LeZion, architect's house
Rishon LeZion, buildings
Rishon LeZion, engine room
Rishon LeZion, fermentation room
Rishon LeZion, girl with basket of almonds
Rishon LeZion, group of almond gatherers
Rishon LeZion, Okava safety blade factory
Rishon LeZion, picking almonds
Rishon LeZion, synagogue, exterior
Rishon LeZion, wine box factory
Rishon LeZion, wine cellars, basement
Zionist Industrial Works
Haifa, Jewish factories, Shemen Soapworks
Haifa, Neshur Cement Works, general view from west
Haifa, Shemen Oil Works, oil packing department
Haifa, Shemen Oil Works, refinery of edible oils
Haifa, Shemen Oil Works, seed milling department
Jewish factories
Kfar Ata, Ata Textile Company, main house
Kfar Ata, Ata Textile Company
Lodzia Textile Company in Holon settlement
Lodzia Textile Company, underwear department
Nachlat Izhak, Jacquard weaving looms, close up
Nachlat Izhak, negative printing of patterns
Nachlat Izhak, preparation of original designs
Nachlat Izhak, printing table and drying apparatus
Nachlat Izhak, ribbons and woven labels manufacture
Nachlat Izhak, samples of finished labels
Petah Tikvah, Barzelit wire drawing, nail factory
Ramat Gan, Argaman Textile, finishing department
Ramat Gan, Elite Chocolate Factory, general view
Ramat Gan, Elite Chocolate Factory, products
Ramat Gan, Meshi Silk Company, jacquard silk loom
Rehovot, Sieff Building at Weizmann Institute
Tirsah Furniture manufacturers, factory exterior
Tirsah Furniture manufacturers, workshop interior