The American Colony and Eric Matson Collection:
Founded in 1881 by Horatio Spafford (author of the famous hymn, It is Well With My Soul), the American Colony in Jerusalem operated a thriving photographic enterprise for almost four decades. Their images document the land and its people, with a special emphasis on biblical and archaeological sites, inspirational scenes, and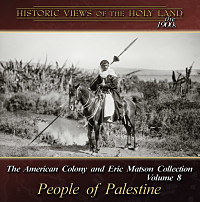 historic events. One of the photographers, G. Eric Matson, inherited the archive, adding to it his own later work through the "Matson Photo Service." He eventually donated all the negatives to the U.S. Library of Congress, which has made them available to the public.
This volume includes more than 250 selected photographs of people in Palestine in the early 1900s, including Arabs, Bedouins, Christians, Druze, Jews, Samaritans, and foreigners. All of the images are included in pre-made PowerPoint® files for quick and easy use, as well as in high-resolution jpg format, suitable for projecting or printing.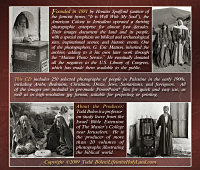 Free: Download the Bedouin Women PowerPoint file.
About the Producer: Dr. Todd Bolen is a Professor of Biblical Studies at The Master's University. He lived and taught for many years at their campus near Jerusalem. He is the producer of more than 45 volumes of photographs illustrating the biblical world, including the Pictorial Library of Bible Lands and the Photo Companion to the Bible.
Cost: $20 $15 (free shipping in the U.S.)
Or buy the complete 8-volume set for $189 $99.
Guarantee: You will be satisfied or your money will be refunded.

List of Photographs in the Volume
PowerPoints
American Colony and Matson Family.ppt
Arab Families and Groups.ppt
Arab Men.ppt
Arab Women.ppt
Bedouin Children and Couples.ppt
Bedouin Men.ppt
Bedouin Women.ppt
Christians.ppt
Druze.ppt
Foreigners.ppt
Jewish People.ppt
Samaritans.ppt
Sick and Disabled.ppt
American Colony and Matson Family
Albina brothers and Lewis Larsson developing at cinema
American Colony photo expedition in Sinai
American Colony, Albina and film dryer
Anna Spafford baby home in Jerusalem, babies
Anna Spafford baby home in Jerusalem, exterior
Anna Spafford baby home in Jerusalem, girls
Anna Spafford baby home in Jerusalem
Anna Spafford baby home in Jerusalem, playground
Anna Spafford baby home in Jerusalem, using loom
Auja River, Matson family
David Matson's birth certificate in Jerusalem
Edith Matson in garden, Jerusalem
Eric and Edith Matson wedding
Eric Matson and Olaf Matson by pool
Eric Matson behind desk
Eric Matson sitting on desk
Eric Matson, Dr Robinson, Goldberg, monks at St Catherine
Eric Matson
Giza, photographer near top of Great Pyramid
Goldberg, Matson, Whiting and Robinson dining
Lewis Larsson, Gamiel Albina developing film at AC
Matson family picnicking on Auja River, near Jaffa
Matson family, 1898
Olaf and Eric Matson
Olaf Matson
Spafford with Bedouins in tent
St Catherine's Monastery, ancient way of entering
Yantiss family with Edith Yantiss Matson
Arab Families and Groups
Arab crowd watching marching band
Arab Ladies' Union, girls school in Musrara Quarter
Arabs in tent after snowfall
Drawing water at the fountain
Family at home in Jericho
Family in Bethlehem
Family in Nazareth
Group of beggars
Group of St George's graduates, teachers, bishop
Jericho townspeople
King David Hotel, Arab Ladies' Union group
Large group of Public Health Dept and laboratories
Morning hygiene, checking for lice
Morning prayers at Scots Mission Hospital, Tiberias
Morning service at Scots Mission Hospital, Tiberias
Muslim orphanage band in Old City
Muslim women and girls
Palestine Broadcasting Service musicians
Peasant family of Ramallah
Peasants and soldiers waiting for Nebi Musa procession
Sheikh of Ramallah and wife
Arab Men
Elderly man
Feeding camel palm leaves
Fellah from Kefar Malek
Jerusalem coffee house
Kavass, consular guard
Man of Nazareth
Man on donkey between Jerusalem and Jericho
Man sitting under tent in Transjordan
Muslim sheikh
Muslim sheikhs and effendis at Khalidiyah Library
Nosairiyeh inhabitant near Antioch
Old men in Beeroth
Oriental gallantry
Peasant watering his horse
Peasants
Riding on camel
Seated man smoking narghile, water pipe
Sheikh of Abu Gosh and locals
Sheikh of Dome of Rock
Village sheikh telling his beads
Young man
Arab Women
Afternoon coffee
Arab girl
Arab woman holding child
Arab woman wearing embroidered coat
Bethlehem women
Girl of Ramallah wearing embroidered dress
Group of Bethlehemites
Jericho women
Married and unmarried women
Married woman from Bethlehem wearing hat and veil
Nazareth maiden in old brocade dress
Nazareth mother
Nazareth woman
Peasant girl of Betunia, carrying water jar on head
Peasant girl with ornaments
Peasant women from Ramallah district
Syrian woman nursing baby
Two young women of Ramallah wearing dowry headdress
Veiled Muslim women
Woman going to market with pots on head
Woman of Nazareth
Woman wearing dowry necklace, American Colony yard
Woman with child on road
Woman with jar near Bethlehem
Women of Samaria with baskets
Women seated on carpet in Bethlehem
Young girl standing in front of tree
Bedouin Children and Couples
Bedouin boy wearing cartridge belt
Bedouin boy with camel
Bedouin children
Bedouin couple in front of tent, Adwan tribe
Bedouin couple
Bedouin family at wedding
Bedouin family, ready to raise their tent
Bedouin girls at wedding
Bedouin girls
Bedouin sweethearts
Bedouins of Petra
Gypsy blacksmith
Gypsy encampment
Bedouin Men
Aref el Aref and Bedouin sheikhs
Aref el Aref and Bedouin sheikhs
Bedouin and camels
Bedouin hunter with falcon at wedding
Bedouin man from village
Bedouin man of Beni Hassan tribe
Bedouin man of Sinai
Bedouin man on horse
Bedouin man playing one string instrument with bow
Bedouin man
Bedouin men
Bedouin musicians
Bedouin riding camel
Bedouin sheikh
Bedouin sheikhs
Bedouin smoking long pipe
Bedouin warrior on horse
Bedouin warriors
Bedouin youth on horse
Bedouins of Arakat tribe
Bedouins of Arakat tribe
Camel kiss, camel nibbling at his master's nose
Frey Abu Median, sheikh of Hanagreh tribe
Group at tent of Oudi Abu Tai, 1921
Hussein Abu Sitte, sheikh of Tarabin tribe
Old Bedouin man from Beersheba
Old Bedouin mounted on camel
Old Bedouin, Sheikh Abd El Ftih
Oudi Abu Tai, famous Bedouin sheikh
Young Bedouin man blowing bagpipe instrument
Young Bedouin men of Beersheba
Bedouin Women
Bedouin maiden
Bedouin mother and baby
Bedouin mother and child at wedding
Bedouin woman and child
Bedouin woman grinding flour
Bedouin woman holding sword for sword dance
Bedouin woman of southern Palestine
Bedouin woman waiting at Scots Mission Hospital, Tiberias
Bedouin woman
Bedouin women and children
Bedouin women at encampment
Bedouin women in front of tent in Moab, Adwan tribe
Bedouin women waiting at Scots Mission Hospital, Tiberias
Bedouin women
Beersheba women
Mother and child from Beersheba district
Old Bedouin woman, Adwan tribe
Christians
Abyssinian bishop
Abyssinian crown prince
Abyssinian monk
Abyssinian monks
Abyssinian nun
Armenian priests
Clergy at Government House on Olivet
Coptic monks
Franciscan monks
Greek monks
Greek Orthodox monk in convent library
Greek patriarch
Maronite bishop
Monks of Monastery of St Catherine
Pilgrim receiving tattoo
Russian priestesses of Ain Karim
Syrian bishop's funeral, corpse seated in church
Druze
Druze man
Druze men in tent
Druze men
Druze refugees, revolted against French in Syria
Druze sheikh
Druze sheikhs
Druze women baking bread
Druze women
Foreigners
Asbury College Quartet in Bethlehem
Asbury College Quartet
Belgian Consul General, other consuls on St Sauver
British soldiers next to Western Wall in snow
Crown Prince of Sweden reviewing British Troops
Dinner party at YMCA hostel with McConnell
Dr William McLean and Mr Datsq at English Hospital
Ex-King Alfonso of Spain at King David Hotel
Garden group with Princess Ileona of Romania, 1930
Group at Churchill House with high commissioner
Group at St Andrew's Church
Harry Emerson Fosdick and Greek Orthodox monks
Harry Emerson Fosdick, American Colony, Jerusalem
Military chaplains with bishop
Mr Allisson's wedding, group in courtyard
Ordination group at church army
Polish immigrant at girl's farm in Borochov
Prince William of Sweden
Prince William of Sweden, near Dome of the Rock
Sergeants mess group at 16th General Hospital
Swedish group at American Colony
Tunneys at Bedouin camp with Sheik Majid
Tunneys dining at Bedouin camp with Sheik Majid
Jewish People
Chief Rabbi of Jerusalem, Jacob Meir
Elderly Jewish man
Elderly man, seated under tree
Group of Ashkenazi Jews
Group of Yemenite Jews
Jewish man, seated
Jewish men
Jewish money changer
Jewish people at Western Wall
Jews of Jerusalem
Man in street
Moorish Jew
Poor family
Poor Jewish family in Aleppo
Queen Esther in Tel Aviv Purim carnival
Yemenite Jew
Yemenite rabbi blowing shofar
Yemenite rabbi with radio
Samaritans
Engaged Samaritan boy and girl
Old Samaritan
Samaritan child
Samaritan girls
Samaritan high priest and ancient scroll
Samaritan high priest
Samaritan men and their intended brides
Samaritan mothers and their children
Samaritan smoking narghile in Nablus
Samaritan woman in Nablus
Samaritan writing manuscript in Nablus
Samaritan youth, profile
Son of Samaritan high priest
Sick and Disabled
Blind man at Scots Mission Hospital, Tiberias
Group of handicapped beggars
Group of lepers
Man with Jericho buttons, 1917
Man with Jericho buttons
Man with smallpox