Flocks and herds are abundant, and the shepherds are armed, not only with guns, but with battleaxes, for defence against the wolves, who are the depredators of the hills, as the Bedawîn are of the plain. We met a weeping shepherd boy, who told us a wolf from a cave hard by had just carried off a kid before he could save it. (Source: Picturesque Palestine, vol. 3, p. 176.)
In the Shepherd's Field, Bethlehem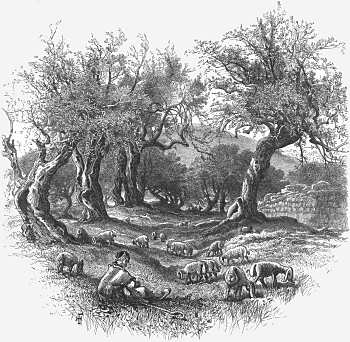 Source: Picturesque Palestine, vol. 1, p. 125.
A little knoll of olive-trees surrounding a group of ruins marks the traditional site of the angels' appearance to the shepherds, Migdol Eder, "the tower of the flock." But the place where the first "Gloria in excelsis" was sung is probably farther east, where the bare hills of the wilderness begin, and a large tract is claimed by the Bethlehemites as a common pasturage. Here the sheep would be too far off to be led into the town at night; and exposed to the attacks of the wild beasts from the eastern ravines, where the wolf and the jackal still prowl, and where of old the yet more formidable lion and bear had their covert, they needed the shepherds' watchful care during the winter and spring months, when alone pasturage is to be found on these bleak uplands. (Source: Picturesque Palestine, vol. 1, p. 124.)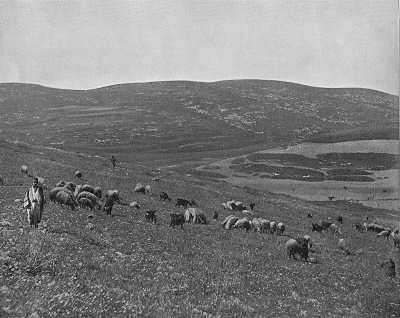 Source: Earthly Footsteps of the Man of Galilee, p. 20.
Flocks Near the Pit of Joseph
They were now close to the spot where the transaction took place which, under God's providence, made Joseph a prince in Egypt and his brethren criminals . . . ."And Joseph went after his brethren and found them in Dothan. And when they saw him afar off, even before he came near unto them, they conspired against him to slay him. And they said one to another, Behold this dreamer cometh. Come therefore and let us slay him, and cast him into some pit; and we will say some evil beast has devoured him; and we will see what has become of his dream." . . . The flocks are still feeding on the hills of Dothan, and the shepherds watching them are dressed probably in the same costume worn by the sons of Jacob. (Source: Earthly Footsteps of the Man of Galilee, p. 20.)