Historic Views of the Holy Land
Because of rapid changes in the Holy Lands in the last 150 years, older photographs often reveal features not visible today. Political changes, population explosions, and tourist "improvements" have significantly increased our distance from the ancient world. This series intends to help bridge that gap by providing high-quality photographs and illustrations from the biblical world in times past.

This project complements the popular Pictorial Library of Bible Lands series. Because of the increasing use of computer technology for instruction, teachers of the Bible need more and better electronic visual aids. The "Historic Views of the Holy Land" series makes available photographs and illustrations of biblical sites from the last two hundred years, in a high-quality and easy-to-use electronic format.
Historic Views of the Holy Land
The American Colony and Eric Matson Collection Volumes 1-8
Features 4,000 high-resolution photographs taken by resident photographers in the Holy Land from 1898 to the 1940s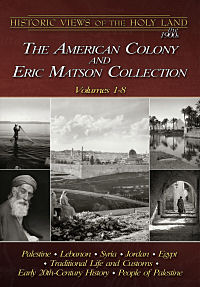 Picturesque Palestine - 4 volumes
Cost: Each volume is $15-40; the complete 20-volume set is available for $199.
Guarantee: you will be satisfied or your money will be refunded.
"This is very impressive! It is a "WOW" product from many perspectives. I'm sure the Historic Views of the Holy Land series will be a great success. Thanks for your time, money, and hard work in making these one of a kind CDs available to people like me, that could never afford it otherwise."
--Jim Page