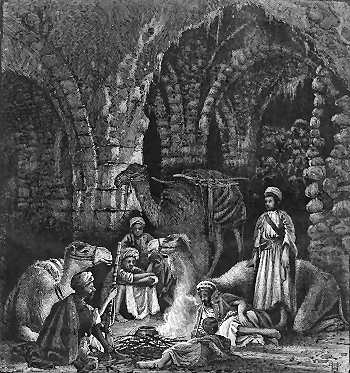 Source: Picturesque Palestine, vol. 1, p. 216.
A Halt for the Night in the Kahn of El Bireh, Ancient Beeroth
A visit to Adullam affords views of the desolation and stern grandeur of that wilderness and of those "rocks of the wild goats" where David and his men found refuge from the troops of Saul, and where they were trained to deeds of daring which they displayed so frequently in after days. There, too, when traversing the mountains, I found it would not be difficult to raise, among the active shepherd Taamirah and the more warlike Jehâlin Arabs, a band that might rival David's followers. He had gathered round him here, in the recesses of his native hills, "every one that was in distress, and every one that was in debt, and every one that was discontented." There were hundreds of such men around me. In fact this seems to be, to no small extent, the chronic state of the sparse population. In restlessness, cunning, daring, unscrupulous tendency to forays, they are unsurpassed. (Source: Jerusalem, Bethany, and Bethlehem, p. 127.)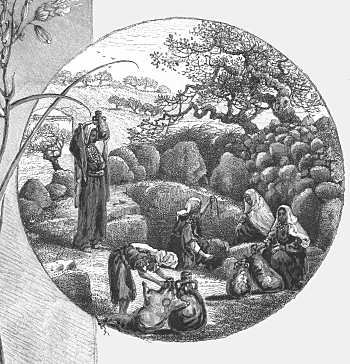 Source: Picturesque Palestine, vol. 1, p. 134.
Looking a little to the north of the Shepherds' Tower we see the Well of David, a few minutes' walk from the town—not a spring, but a large, deep, rock-hewn cistern into which the water percolates . . . . There are narrow openings through which the supply can be reached. When David exclaimed, "O that one would give me to drink of the water of the well of Bethlehem that is at the gate," he was hiding in the Cave of Adullam. We can picture how, while the Philistines had but a small garrison in the town itself, and their main camp outside to the north, David's men broke through the garrison and drew water from the well without entering the Philistines' camp. (Source: Picturesque Palestine, vol. 1, p. 124.)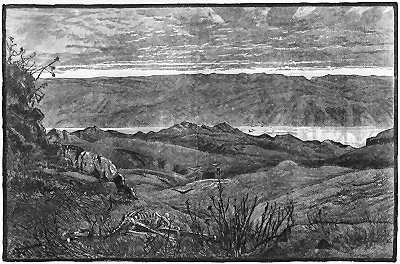 Source: Picturesque Palestine, vol. 3, p. 185.
David's earliest refuge after his flight from the court of Achish was the Cave of Adullam, which, as we have noted, was on the western slopes of the central mountain range, guarding the rich corn valley of Elah. Thence he moved south to Keilah on the same range, and then crossed to the neighbourhood of Ziph, where he had his interview with Jonathan. Close to Ziph, Lieut. Conder has discovered the ruins of Khoreisa and the valley of Hiresh, which exactly answer to the Hebrew word rendered "wood" in our Bible. Then again, by the treachery of the men of Ziph, David had to fly to the wilderness (Jashimon), i.e. the great desert plateau we have been describing above the shores of the Dead Sea. (Source: Picturesque Palestine, vol. 1, p. 145.)
Source: Those Holy Fields, p. 62.
The hill Hachilah, his stronghold, is by Lieut. Conder placed at El Kolah, where the hilly desert and the southern wilderness meet; and it is curious to note that some caves on the north side of the hill retain the name of the "Caves of the Dreamers," perhaps the very spot where David suddenly surprised the sleeping body-guard of Saul. From Hachilah he went to the wilderness of Maon, Nabal's home, which can easily be seen from Ziph, as can the great crusading town which marks the Carmel where Nabal had his flocks and herds. Lieut. Conder further suggests a deep gorge, "the valley of the rocks," between Maon and El Kolah, as the "cliff of division," as the scene of David's last interview with Saul, when he had taken his spear and cruse of water from beside his bolster. There is no other place in the neighbourhood which would meet the requirements of the history, and the chasm here is very narrow and absolutely impassable except by a detour of several miles. (Source: Picturesque Palestine, vol. 1, pp. 145-46.)