Instructions for Downloading and Viewing PowerPoint Files
1. To download the file, right-click on the link and select "save target/link as."
Screenshot: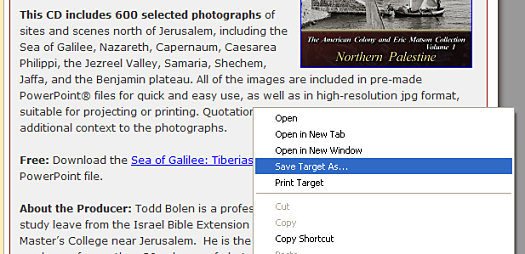 3. To open the file, double-click on it. If you have PowerPoint installed, the file will open in PowerPoint. If you do not have PowerPoint installed, you may install the free PowerPoint viewer.


A better option is "Impress," included in the free OpenOffice (PC) or NeoOffice (Mac) suites. This allows the viewing of the "Speaker's Notes" section, which contains interesting and informative quotations related to the photographs.
After installation, open the "Impress" program and open a PowerPoint file. To view the information in the "Speaker's Notes" section, go to View > Workspace > Notes View.
Screenshot of "Speaker's Notes" in PowerPoint:
Click on image for large version